Comfort & Entertainment
Travelling should be enjoyable, so sit back, relax and let us take care of you on your flight. Whether you are travelling within Europe or further afield Aer Lingus will cater for your every need.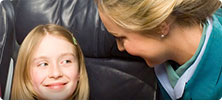 Within Europe Economy
Seats & Cabin within Europe
Relax in comfort in one of our comfortable leather seats while travelling within Europe. Choose where in the aircraft you would like to sit: window, aisle or all the family together.
More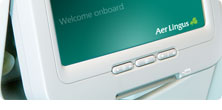 Transatlantic Economy
Entertainment at it's best
We have the latest on-demand in-flight entertainment system on flights to/from North America to keep you entertained on your journey. Wi-Fi is now available on all our A330 aircraft on our transatlantic routes.
More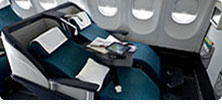 Transatlantic Business
Enjoy the Business Class Experience
Experience the luxury of flying transatlantic in Business Class. Whether you're travelling to/from North America for business or pleasure, Aer Lingus Business Class will cater for your every need.
More